The Geography of Bosnia and Herzegovina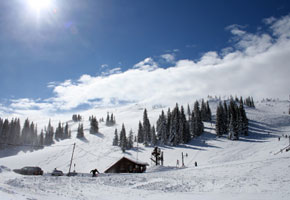 Bosnia and Herzegovina is also known as the Republic of Bosnia and Herzegovina. This country is located on the Balkan peninsula, which allows beautiful views, access to water sports, and secluded mountainous resorts.
Bosnia and Herzegovina is bound by Croatia to the north, northwest, and west, Montenegro and Serbia to the southeast, east, and northeast. The Adriatic Sea attracts a good deal of tourists to Bosnia and Herzegovina's coast, especially the area near Neum. The protected peninsula region has a warm, sunny climate and a long summer period.
Neum also benefits from the warmth of its waters to attract tourists. The water is far from shockingly cold—in fact, 55 degrees Fahrenheit (12.7 Celsius) in the norm in the winter to 90 degrees Fahrenheit (32 Celsius) in the height of summer (July and August).
Climate
Bosnia-Herzegovina does have distinct regions which have slightly different climates. The southern area of Herzegovina benefits from a Mediterranean climate, with an annual precipitation of 24 to 31.5 inches (61 centimeters to 80 centimeters), while the Central and Northern areas of Bosnia and Herzegovina has an Alpine climate with precipitation ranging from 59 to 98 inches (150 centimeters to 249 centimeters).
If you are traveling to Sarajevo, the temperature can be 31.5 degrees Fahrenheit (around 0 degrees Celsius) to 67 degrees Fahrenheit degrees (19.5 degrees Celsius) in July. The lush valleys, filled with thickly forested areas, are graced by a continental climate. Cold winters and mild summers draw a crowd primarily in the summer months.
It is recommended that travelers go to Bosnia and Herzegovina during the months of May and October. It is warm and dry in the summertime. It is recommended that you take a sweater and other light layers for the evening. The wintertime can be rainy and windy, raw near the coast, and snowy in the mountains.
Special Climates
Travel to Sutjeska National Park, which has a huge waterfall and a thick, dark forest. This can provide a cooling effect for hikers who are traveling up the challenging trails of Bosnia and Herzegovina's highest peak, Maglic. The Sutjeska River travels deep through the peaks and adds moisture to the air even on the warmest summer days.
If you are on the search for skiing in Bosnia and Herzegovina, head to the mountains of Igman and Jahorina in Sarajevo in the winter. With perfect drifts and various trails for skill levels, everyone who's a fan of winter sports will treasure a trip to Bosnia and Herzegovina.